Ikaruga
Interview
Chapter XXIX: Untitled Dreams

Posted by
Justin Maller
\

@justinmaller
justinmaller.com
— on March 20, 2007

Montreal
/ Canada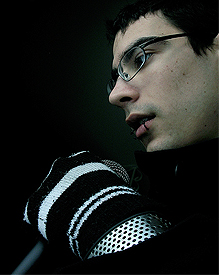 Before we get started with the meaty stuff, why don't you give us a quick biography on the who, what, where and why that make up the complex fellow we've come to know as Ikaruga?
I.. I am Ika. I was born in Montreal in a green egg with orange poke-dots on it. I've been trying to act like a normal human being since 1986, but I still have a hard time convincing people sometimes. I am mostly self-taught, I tried college but ended up playing more Halo in the student clubs than going to actually classes. I believe that art cannot be learnt at school; it can be learnt outside, online, with friends, alone, at the movies or at the clubs, but not at school. I like learning; I dedicate my life at learning techniques and developing ideas.
Congratulations on being the featured member for 'A Series Of Untitled Dreams'. Your work really escalated to a new level of conceptual quality for this pack; how much of that can be attributed to inspiration from the pack theme itself, and how much is just the result of a natural development?
When I first saw that you suggested that theme, I bribed everybody so it would get chosen! Seriously, that was by far my favorite pack name of all; It's brilliant! There is so much words can't express, so much that you can't explain with this mere lexicon. This theme reflects my work in general. I hate giving names to my drawings, so I usually just give them a number for classification purpose. So I believe that natural development and theme ended up being twin fuels for my development in this pack.
Give us a run down of the different mediums you work in, digital and analogue. How did you get from one to the next?
I have these cycles where I have to move from one medium to the other monthly. That's also why I can't keep my jobs! In order of favorite I'd say: Vector illustrations in flash, 3d modeling in Cinema4d, music with my beatbox machine, traditional drawing with my microns, origami with the bus schedules and video with Final Cut Pro. I rarely combine them together because I use each of them to depict different ideas.
Being an artist with such a unique aesthetic and such a natural aptitude for cross-disciplinary works, what do you find still influences and inspires you? Many artists are influenced primarily by other art and music, but do yours stretch a bit further?
Haha, man, that's very sweet. I can't quite put my finger on what inspires me, but I think it's a complex mixture of my girlfriend's art, music and science. I don't know if you're familiar with the term Steampunk, but all of my recent 3d works could be classified as this genre. Retro-futuristic science of random cogs and gears and straps. On the other hand, my drawings are inspired a lot by music and .. *ashamed* myself. I like to draw myself a lot, it's weird I know. But I find that it's a way for me to grow from my art and bring those drawings to life. If you'd see me, you would probably think I look like my characters.
Digital art is such a progressive medium; what do you see as the next big thing in the art scene technology wise?
Animation and video. I remember back in the day, rendering a scene would take days and was very expensive. Now everybody has access to this amazing technology, plus file transfer is getting faster and faster. The Web 2.0 piece of shit makes me laugh everytime I see somebody falling for it; I'd rather visit complex and well done graphical sites than these all-look-alike trendwhores. I think that website UI similar to video games are the next big thing. Something that actually gives you the feeling that you "navigate" the site. I've been developing a 3d artwork in which you can walk around in real time in your browser; it can be accessed at www.m0oo.com. *shameless plug*
Blending photographs with digital art has become an everyday practice for most artists; where do you see us going from here?
I'm so glad you mention it, because I hate it! I used to be a photo-manipulator, spent countless days and night gathering the finest stock photos for the next piece. I stopped because at one point you start depending on those pictures to represent a concept. It's a limit that I can't afford when I want to show something. When you depend on your stock photo, you start to create a concept around the picture, instead of using the picture to represent your concept.
If you were given a grant to investigate any kind of art related project for a year, what would you dedicate your times towards?
I would work on an interactive game project most probably. I've been learning scripted animation recently, and I would like to bring that to another level. I want to bring people in to this world of mine; I want to generate sound and video based on motion, noise, temperature, location, etc. Even if I don't get that darn grant I'll do it. Watch out for the next DC pack!
Name one artist and one musician everyone must experience before they die.
Artist: ColonyOne
Musician: Assemblage23 & Combichrist & The Horrorist & Cliff Martinez
What is the one program you couldn't live without?
Flash!!
Time for the Dirty Dozen; Super Fast, Super Happy Fun questions, here we go!
What is your favourite:
Keyboard Shortcut? "Apple +up"; Quicksilver Menu
Cereal? Muslix
Time of day? Between 11pm and 3am
Country you've never visited? Germany
Cartoon character? Mew ( JSRF )
depthCORE pack? Freestyle II
depthCORE artist? Fake
Animal? Red Panda
Colour iPod? Green
Colour in general? Green
Drink? Vodka + Enegry Drink
Weather? Sunny Morning after a hard rain.
What advice do you have for people who are just getting started in this scene?
"Wear your seat belt"
Thanks for taking the time mate, any final messages?
Try things, don't compare yourself to others, make it for yourself, go crazy!
Ika <3

Back to Top \ Back to Interview List \ View Chapter XXIX: Untitled Dreams Submissions \ Submissions by Ikaruga